IIT works on AUV that detects black box under water
The Rs 22-lakh robotic submarine Matsya, unveiled Tuesday, has multiple underwater applications.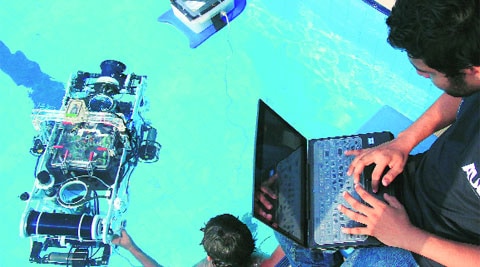 Students and faculty of IIT Bombay are working on an autonomous underwater vehicle (AUV), similar to one that was deployed to search the black box of the missing Malaysian Airlines plane, which can detect underwater sound source of the kind emitted by a black box.
The Rs 22-lakh robotic submarine Matsya, unveiled Tuesday, has multiple applications, which include defence (monitoring, detection and surveillance), marine science research, oceanography studies, rescue operations, and constant monitoring and maintenance of underwater power lines, among others.
"This is the third version of the vehicle and is the most advanced. We are currently focusing on product-level development. The latest version has hydro-phones or underwater microphones to detect sound in the water.
The US had deployed similar AUVs in the Indian Ocean for searching the black box of MH370. A black box emits constant beeps for a month or so and an AUV can be used to detect such sounds. Our vehicle will be able to perform such a function in the next 20 days. It is currently in the development and testing stages," said Mihir Gupta, an IIT Bombay student.
Developed to localise itself in an underwater environment, it is a 1.2-metre-long vessel that weighs 38 kg and can navigate up to a depth of 150 feet, with a maximum speed of one metre per second.
Around 27 students and three faculty advisors are working on the vessel, which was demonstrated inside a swimming pool at the IIT Bombay campus. Designed by a multidisciplinary research group that implemented concepts from mechanical, electrical, computer science, aerospace and material sciences engineering streams, the AUV performs real-time miniature naval tasks based on feedback from visual, inertial, acoustic and depth sensors. The vehicle will represent IIT Bombay at the International RoboSub competition at San Diego, California, in July. ...more
Document Actions